It doesn't have to be hard to get your daily dose of the amazing nutritional food that is bone broth! Check out my article My 5 Favourite Ways To Use Bone Broth and then cook up the simple, warming and delicious recipe below!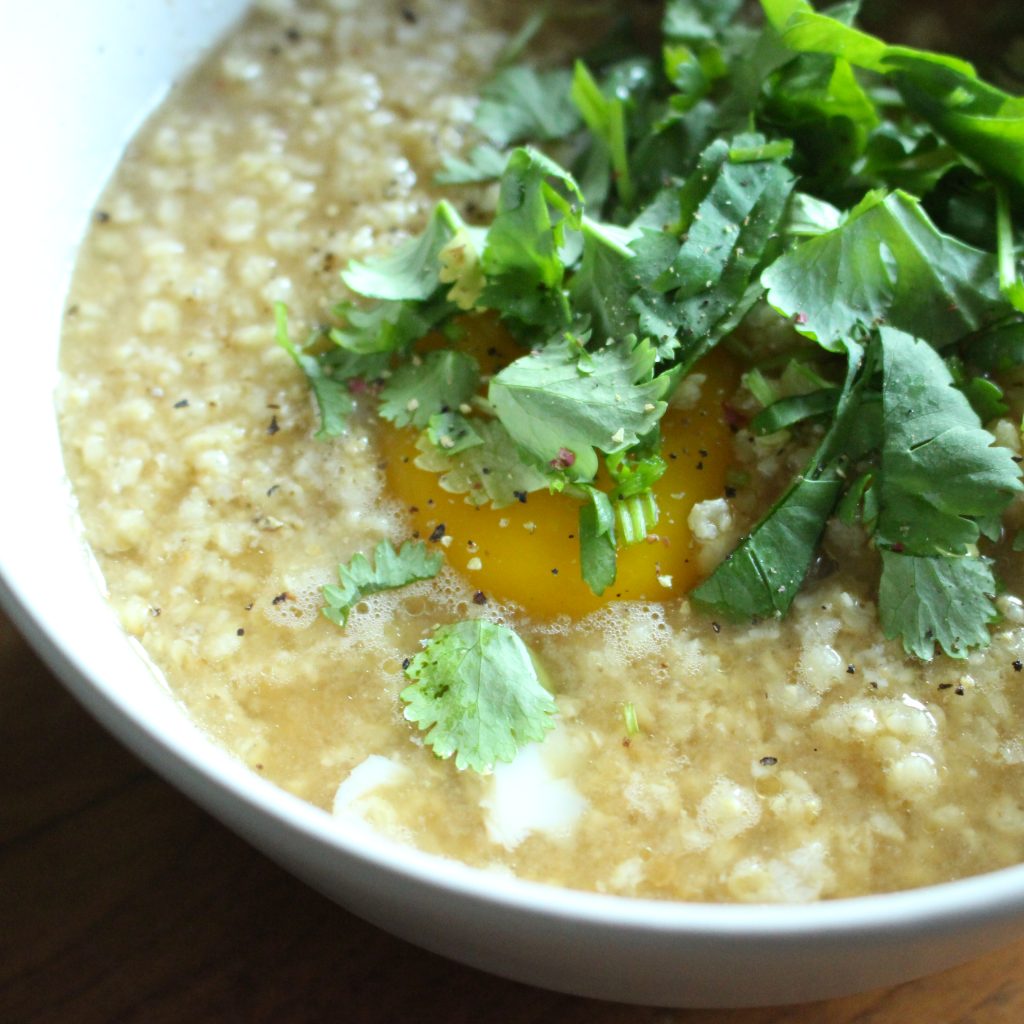 This bone broth bowl is one of my go-to breakfasts throughout the winter. It's simple, uses leftovers, is very tasty and gives me bone broth to start my day. Here's how:
Ingredients (serves 1):
Around 1/2 a cup of bone broth (vary this depending on whether you want a liquidy breakfast or something more solid)
6 to 7 round slices of carrot
2 to 3 thin slices through a whole onion
1 tsp miso
4 to 5 heaped tbsps of leftover carb – millet, sorghum, rice, potato – whatever you have in the fridge (again vary this amount depending on how hungry you are)
An egg (sometimes I'll swap this out for nuts or, if I want an extra boost, collagen powder)
Optional: fresh herbs
Note: If you don't have miso, you could use herbs, garlic or leave the addition out completely!
Method:
Put the carrot and onion into a small saucepan and cover them with the stock.
Drop in a teaspoon of miso and mash it against the side of the saucepan until it's mixed in with the stock.
Bring this to the boil and then turn down to medium low for 5 to 6 minutes (I will often go and get dressed, or stir my ferments whilst this is happening!)
Add leftover grains/potato, and whilst this is warming up go grab an egg and crack it into the mix, so it sits on top.
Put a lid on the saucepan. Keep the heat at medium low until the egg is poached to the level that you like. I like my eggs runny, so I look for an opaque white, but an egg that still jiggles if I shake the saucepan!
Pour into a bowl, top with optional herbs and enjoy!
My podcast co-host and I dedicated an entire episode of Ancestral Kitchen Podcast to bone broth! To listen in to the episode, titled #26 Bones & Water – The Magic Of Stock, click below (or find us in your podcast player!).