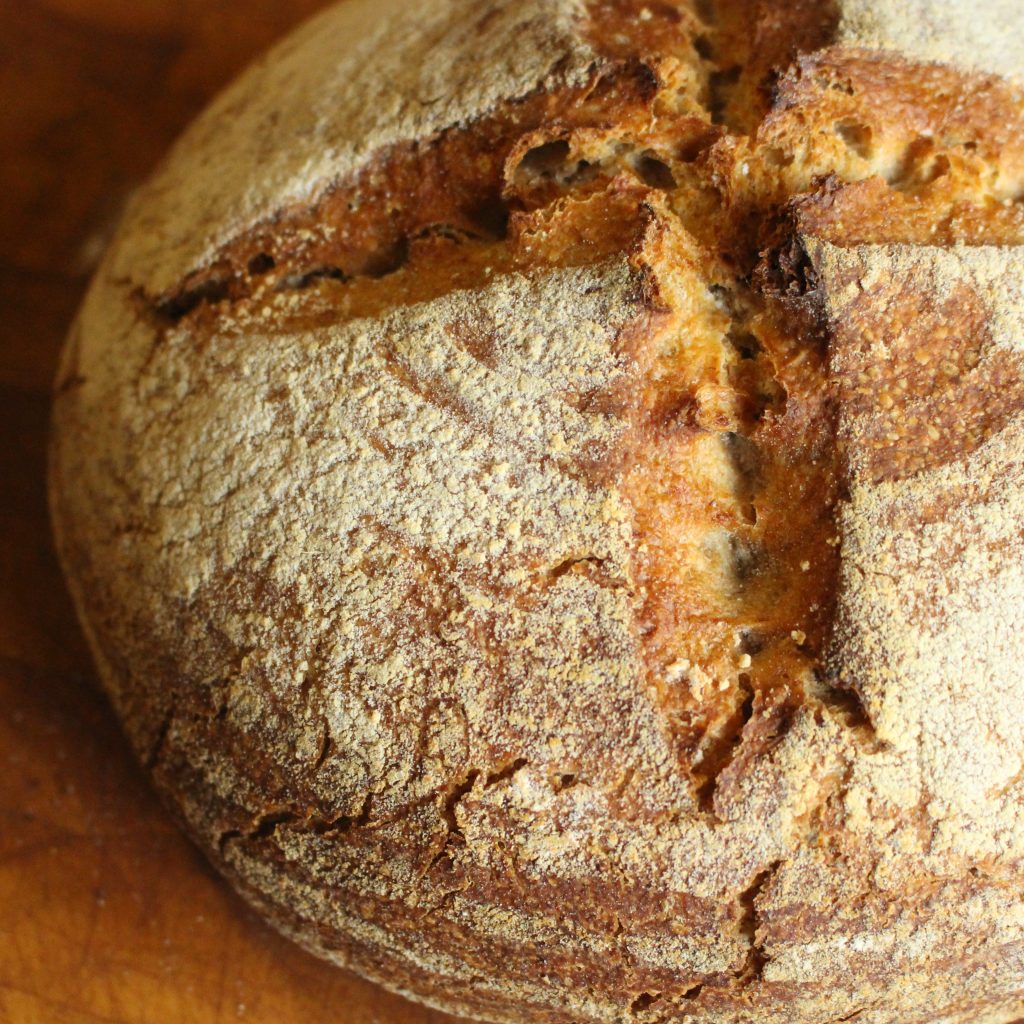 Sowans is a traditional Scottish fermentation that wild ferments the oat grain, producing a smooth, creamy, zingy and super-nutritious porridge and I absolutely love it.
When I love something, I also love to share it! And sharing my Sowans technique on Instagram has led a lot of people to ask how they can do it in their kitchen. So I've created an accessible, fun course that explains how to make this traditional Scottish ferment step-by-step, no matter what equipment you have in your kitchen.
In over a year of making Sowans weekly, I've experimented with many ways to incorporate the tasty porridge into my cooking.
When I first tasted it, my instinct was that it'd be good as an ingredient in bread. I was right.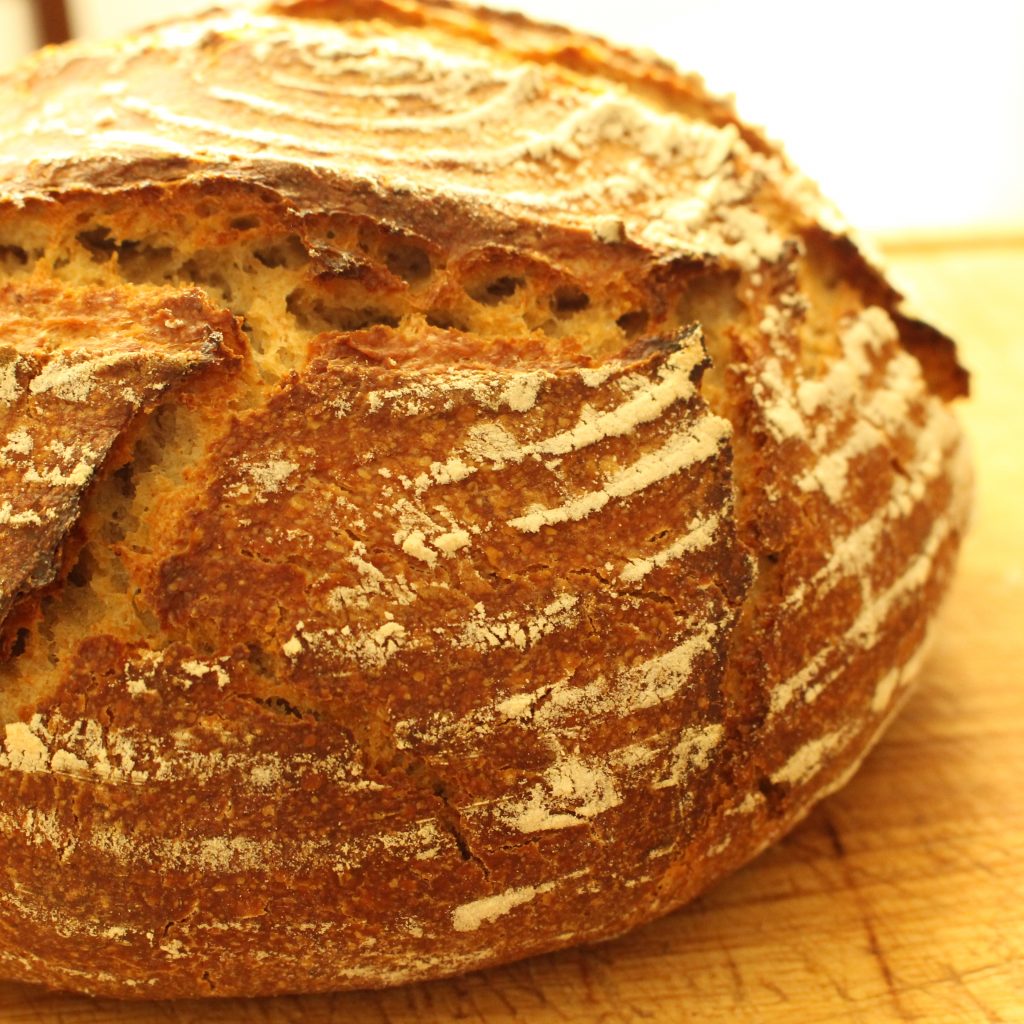 Here's the recipe I've developed for a Sowans Spelt Sourdough Loaf. In it, I cook up the fermented oat porridge, and then, instead of serving for breakfast, I mix it into my bread dough!
Including a portion of pre-cooked flour is present in many bread-making traditions. It's called 'scalding'. I usually include a 'scald' in my all my sourdough spelt loaves because, in my experience, 100% spelt loaves have a tendency to go stale quite quickly. The inclusion of a portion of pre-cooked flour in the dough makes the resulting crumb much softer and helps it stay that way much longer.
Sowans fermented porridge is perfect to make a scald with! Not only does it produce a softer spelt bread, but it also imparts the rounded, slightly honeyed flavour of the fermented oats to the bread. And the loaf, cooked this way, has a crust that is irresistible.
If you want to follow this recipe to the letter, you'll need a pizza stone (or something similar) and a bowl with which you can cover your loaf at the beginning of the cooking time. I have also baked this loaf in a tin and it works well that way too – just adjust my cooking time/temperature to best suit your own equipment.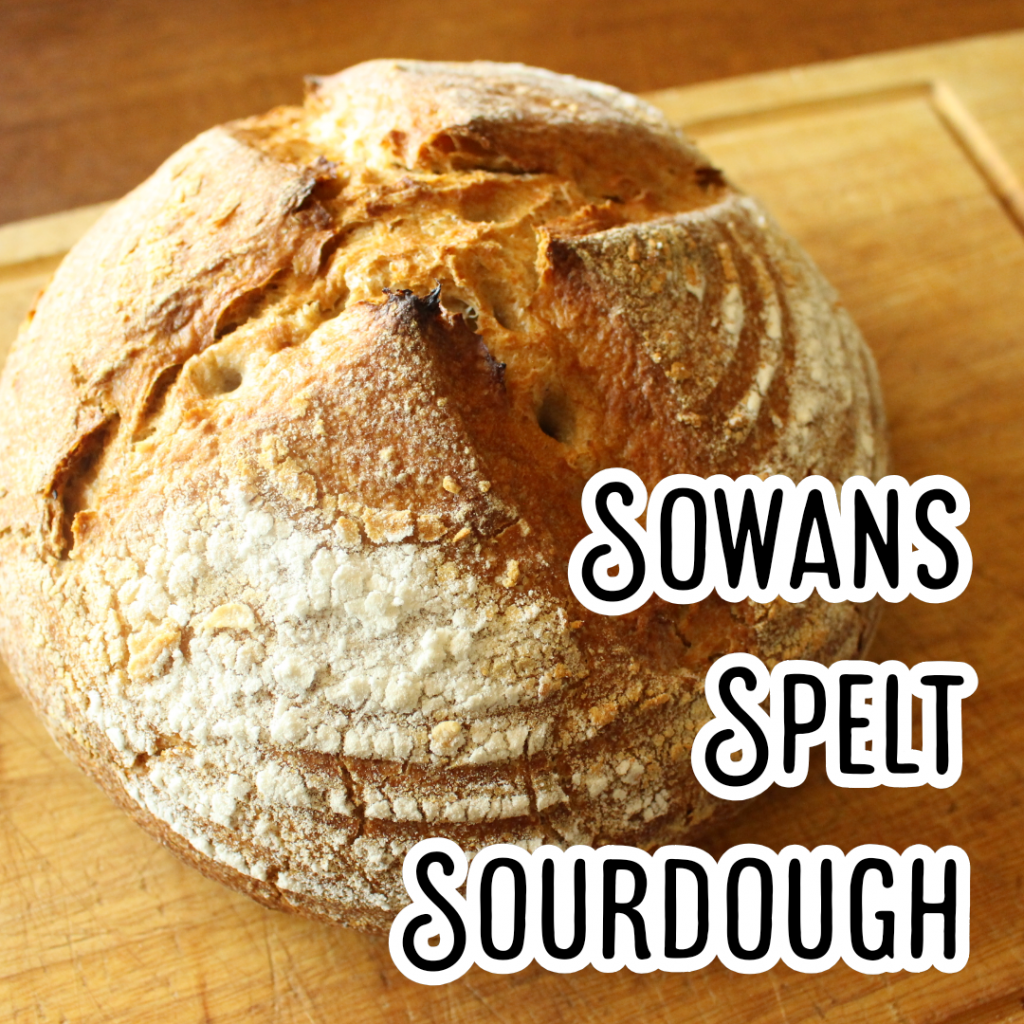 Sowans Spelt Sourdough Bread
Ingredients:
For the 'porridge':
80g compressed Sowans (Sowans left to settle in the bottom of the jar for at least 24 hours)
100g water
For the main dough:
All of the above 'porridge'
255g wholegrain spelt flour
255g white spelt flour
90g wholegrain spelt or rye sourdough starter
11g salt
1.5 tsp runny honey
c190g water
Instructions:
The night before:
Prepare your sourdough starter. To do this, I mix 45g wholegrain rye/spelt flour, 32g water and 13.5g starter in a glass jar and then leave in a warm place overnight. You may need to adjust my measurements to suit your own starter and environment.
The day of the bread:
Making the porridge:
Put the compressed Sowans into a small saucepan and add the water. With the heat on medium-high, stir constantly until the mixture thickens into a stiff paste. Turn the heat down to low and stir for a further 2/3 minutes. Turn the heat off and allow to cool to below 41C/105F before proceeding.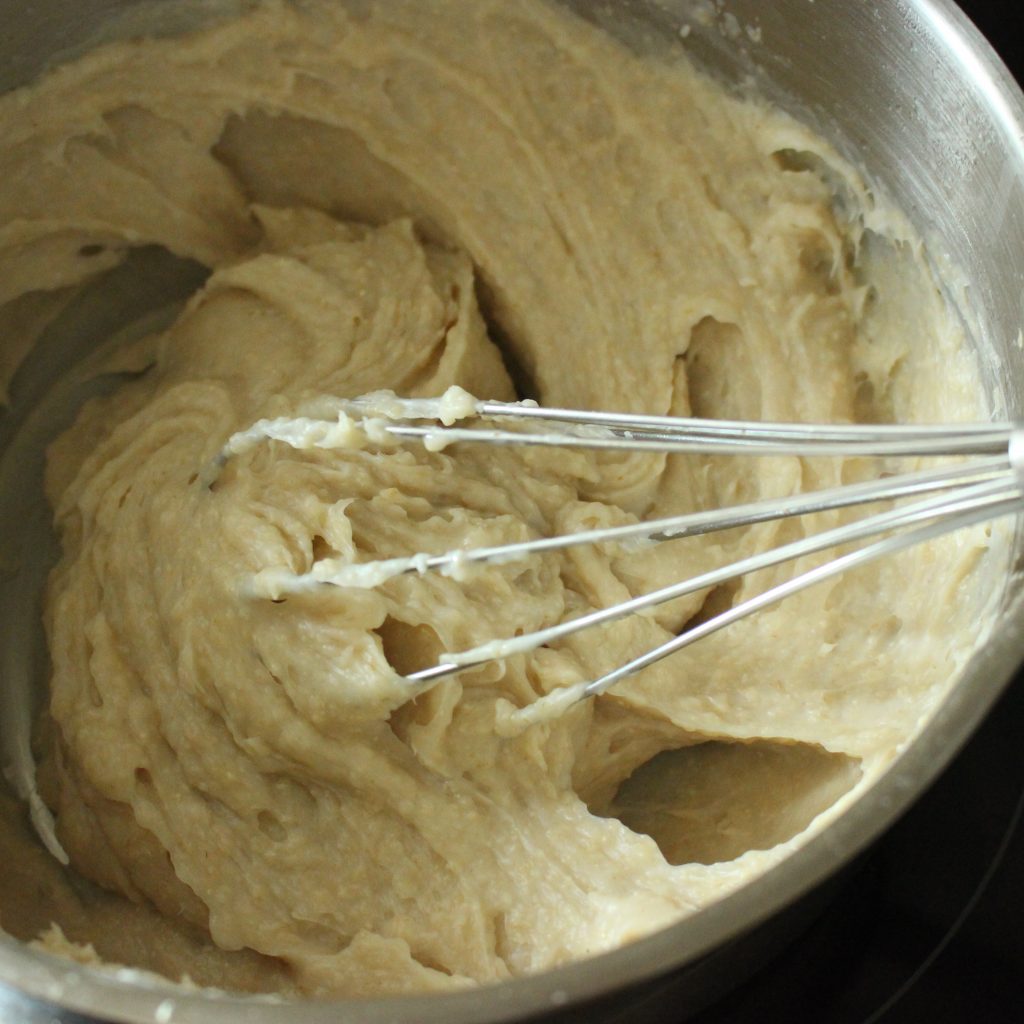 Mixing the dough:
Mix the flours and salt together in a large bowl. Add the peaking or just-peaked starter, the cooled porridge and the honey, dissolved in the water.
Mix the dough well until you can't see any more flour and then work gently for 5-10 minutes until you have a smooth consistency.
Cover the dough and leave it to ferment in a warm place.
How long to bulk ferment?
This bulk fermentation will take anywhere from 4 to 6 hours depending on the temperature of your house and the strength of your starter. With a temperature of 24C/75F I usually leave my dough for 3-4 hours, giving it a gentle stretch and fold every hour.
The dough will be ready when it's visibly increased in size and feels light and airy when you come to it after a resting period.
Shaping, panning and proofing
Prepare your banneton. I like to dust mine with rice flour, but you could also line it with muslin and flour that.
Gently remove the loaf from your proofing bowl and, on a floured surface, form it into your desired shape, tucking the sides under, as you would in a stretch and fold. Once ready, place it gently in the banneton. Sprinkle the exposed part of the loaf with more flour and then cover loosely and return it to your warm place to proof.
I have also cooked this loaf in a tin. If you prefer this, prepare your loaf tin, shape your dough, place it in the tin and again loosely cover it and return it to your warm place to proof.
How long to proof?
At a temperature of 24C/75F my proofing time for this loaf is between 2 and 2.5 hours. The dough will visibly rise – as much as 50%.
Baking
After proofing, when your loaf has visibly risen, you are ready to bake.
The cooking time/temperature will differ, depending on the pan and oven you are using.
I like to cook this as a free-standing loaf, on top of a pizza stone and covered, at the beginning of the cooking time, with a large upturned stainless steel bowl. This is how:
Preheat the oven, on the non-fan setting, to 230C/446F with the pizza stone inside and a large space above (enough to add/remove the upturned bowl).
When the oven is ready, put on oven gloves and take out the pizza stone, placing it on a heat-proof surface. Take the cover off your proofed dough and, placing your hand gently on the exposed portion as support, upturn it and persuade it onto the pizza stone, being careful not to burn yourself. Score the loaf as you desire. Cover with the upturned bowl and working quickly, lift the entire arrangement up and put it into the oven (stopping afterwards to briefly congratulate yourself on the process!)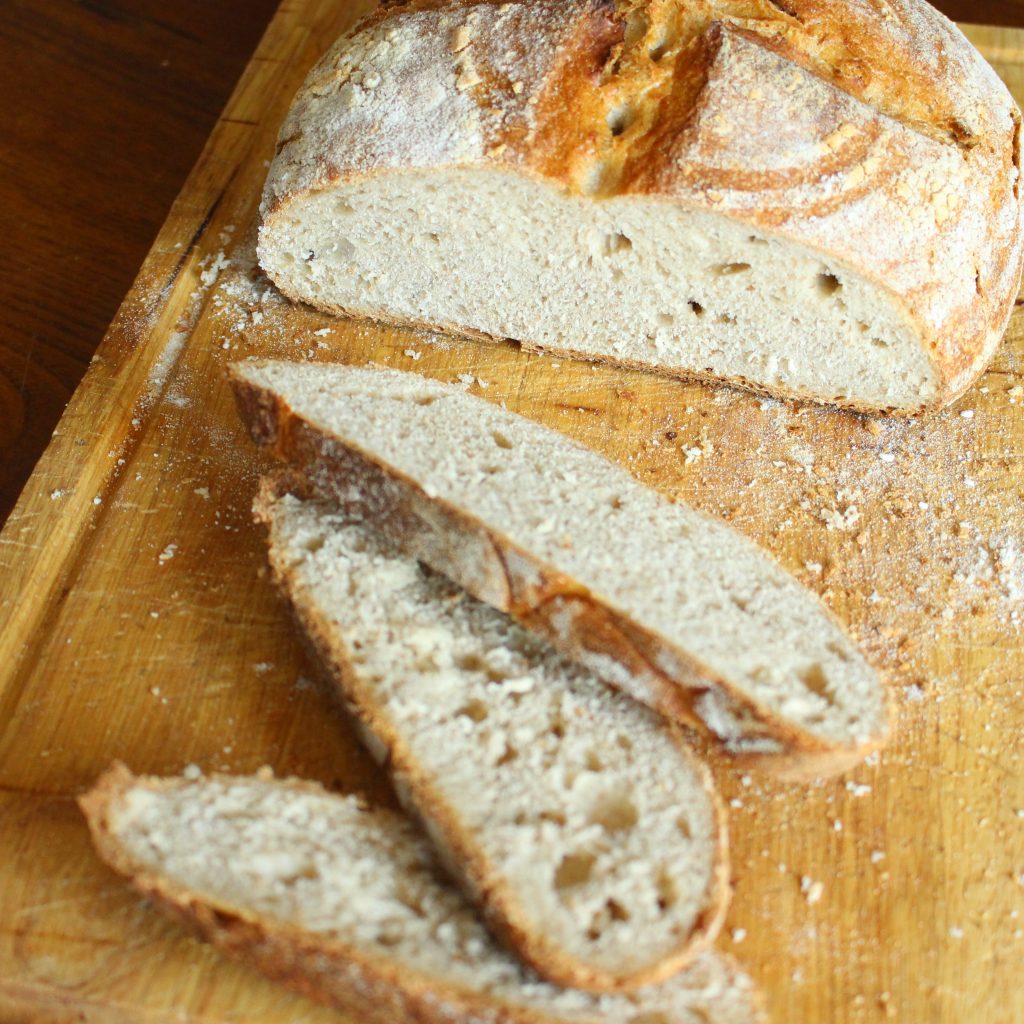 Cook for 20 mins at 230C/ 446F.
After 20 minutes open the oven and take off the upturned bowl, exposing the loaf to the air.
Turn the oven down to 210C/410F and cook for a further 12 minutes.
Turn the oven down to 190C/374F and cook for a further 15 minutes.
The loaf should be gold brown, well-risen and have an internal temperature of around 98-100C/208-212F