Description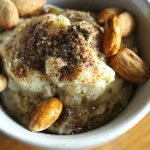 Do you love oats?
Would you like to learn how to re-create an age-old Scottish traditional fermentation?
Are you up for creamy porridge plus a tangy, probiotic oat drink?
Sowans: The Scottish Oat Ferment, will walk you through how to ferment oats the way the Scots used to. You'll end up with two
products; a delicious porridge and a zingy probiotic drink.
The course has over 55 minutes of video instruction plus downloadable files. Use the button under the course title above to buy the course from The Fermentation School for 40USD.