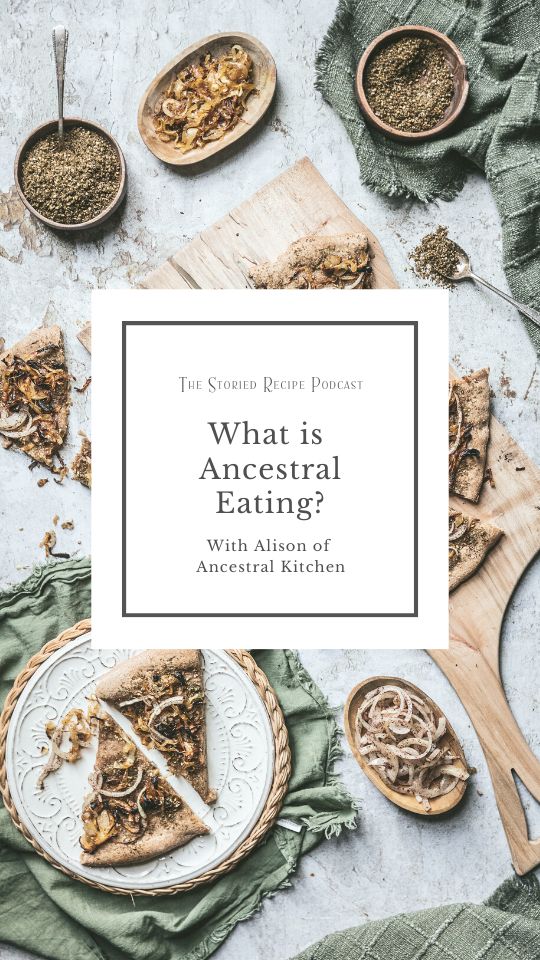 I was recently interviewed as a guest on The Storied Recipe Podcast. It was a frank, compelling discussion that covered ancestral eating and a whole lot more! Becky, the host, said this about our interview:
Alison of Ancestral Kitchen speaks to us today from a tiny little flat outside Florence, Italy, that overlooks the land that grows and sustains her food. From there, she cooks for her family and develops resources for the rest of us on how to eat  ancestrally.
For Alison, food has been the catalyst for just about everything in her life. As a child, she turned to food when she felt, deep in her soul, that she was not home. In her very early years as an adult, she lost half her body weight in a bid to take charge of her own life and prove to herself that she could do hard things. And with that proof in hand, she made one massive change in her life after another – changes that defied expectations, aligned with her convictions, and have given her a life that feels meaningful, abundant, and joyful. She made choices like leaving a successful job for a lifestyle that she imagined, moving her family from England to Italy, and curing herself of PCOS, at least to the extent that she could resume cycles and have a child.
In this episode, we dive deep into what ancestral eating means, the benefits of eating this way, and how busy people can eat  in an intentional & healthful way. Alison is a calm and intentional person, and this conversation will bring the same to your life – oh, it will also bring you the most delicious Spelt Sourdough Pizza recipe and lots of solid, practical tips on cooking with sourdough too. For a comforting, cozy listen in the middle of your busy life, I bring you Alison!
You can find the episode on Apple Podcasts here, on Spotify here, or you can listen from The Storied Recipe's website (plus look at the amazing pictures) here.
The recipe that I share in this interview is my Sourdough Wholegrain Spelt Pizza. If you'd like to see Becky's amazing pictures of it and hear her experience of making it in her own kitchen, you can read her post here.