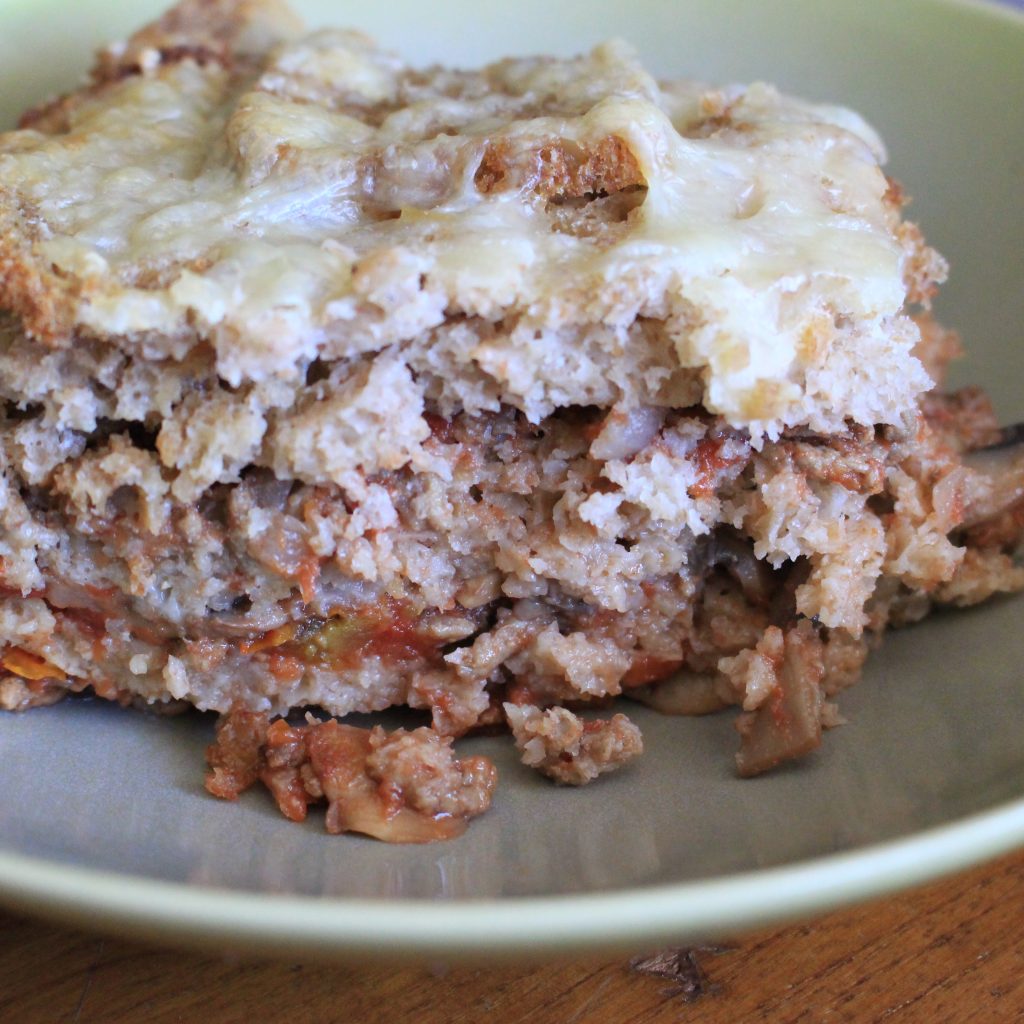 I love bread. So when I heard the statistic that over 40% of the bread sold in the UK is thrown away, my reaction was visceral: "What?! That's crazy!"
In my adopted home, Italy, there are many, many recipes based around using up old bread. Bread has historically never been thrown away – it is a prized foodstuff. This attitude stems partly from famine, which was commonplace, but also owes a lot to the fact that making your own bread (which was the only way to do it until very recently) is a lot of work; when you give that much love and effort to something, you value it too much to cast even a scrap of it aside.
Using every crumb is part of the recipe canon in Italy. And that's where the inspiration for this month's Ancestral Cook-up comes from: Zuppa Gallurese, a traditional Sicilian recipe that centres around using old bread, along with cheese and stock. I love the idea of swapping up pasta for past-its-best bread and have used this recipe as a jumping off point for a bread 'lasagna'. I've mixed it up a bit, and you can too.
Ancestral Cook-Up is a monthly virtual cook-along. It works like this:
Check out the template recipe
Adapt it to suit your kitchen
Cook it some time this month
Share what you've done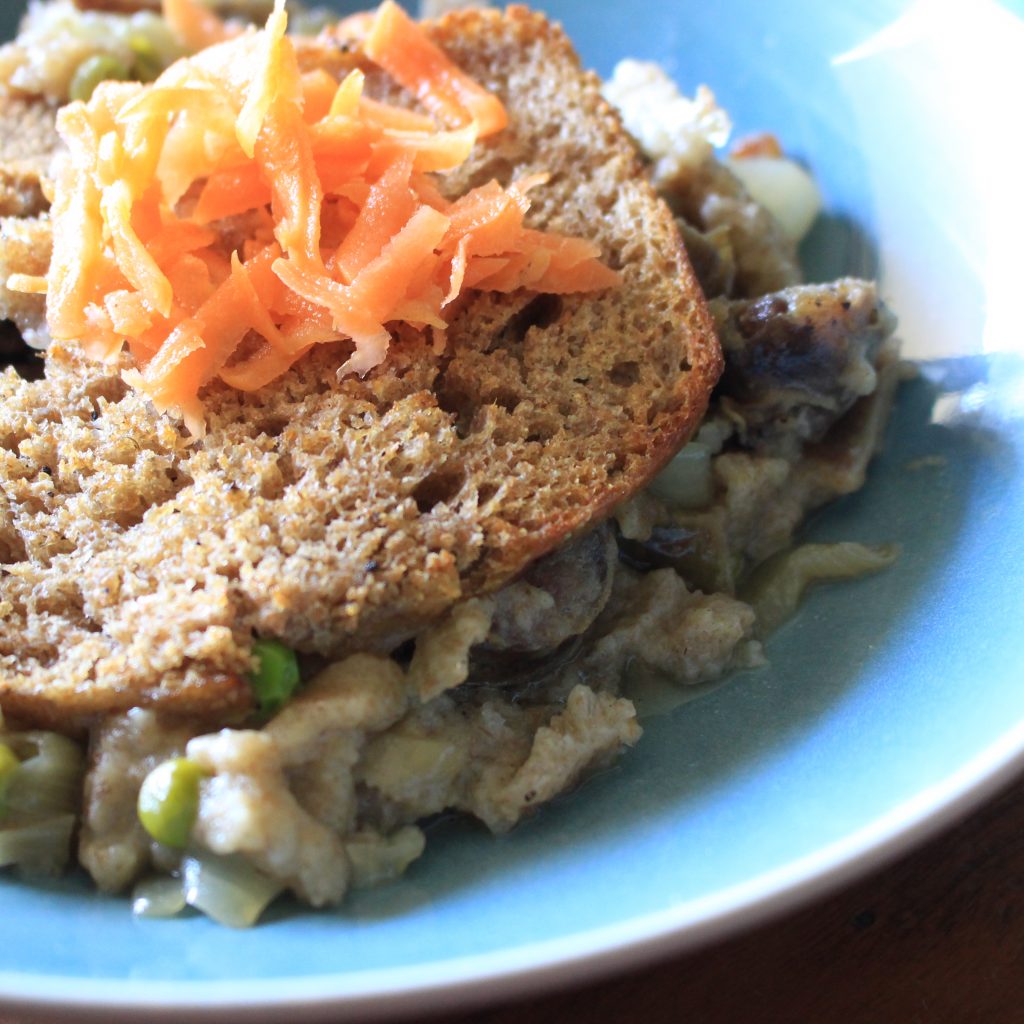 The only things you need for this dish are bread, a filling and some form of stock. We all have different tastes, we all have different things in our fridge – I've designed the cook up so that you can take my template for this dish and make it work for you, your family and your kitchen.
Ingredients:
These quanities fit my oval dish that is 6cm deep, 30cm long and 20cm wide. It feeds 4 people.
c. 500g bread, cut into thin slices
Enough filling to serve 4 people
300-400ml stock
Let's look at each of these ingredients:
Bread
This recipe uses slices of bread to act as the pasta in the 'lasagna'. I use my home-made spelt wholegrain sourdough, but that doesn't have to be what you use. It can be store bought, it can be white, it can be stale (in fact, traditionally, it's supposed to be). This dish will make your bread taste amazing, whatever its provenance.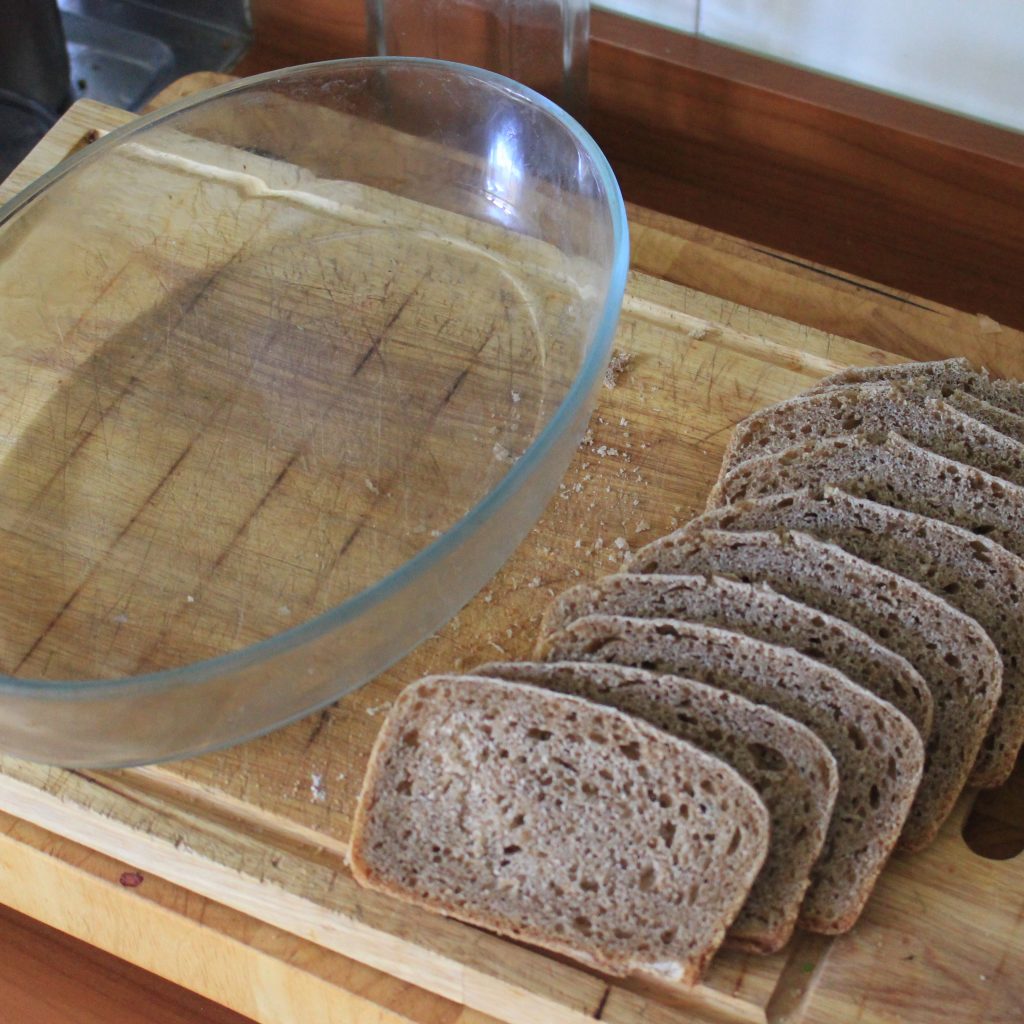 Filling
There are endless possibilities here!
If you fancy, make a traditional bolognaise and layer it with bechamel or cheese between the bread.
But how about mixing up the bolognaise a bit? Use lamb and add some spices. Try turkey, perhaps with some cranberries mixed in. Make it with sausage and sage. Use mackerel instead of meat. Or go vege and use a mix of mushrooms.
Or….get creative with your leftovers.
Most often when I make this dish I use leftovers. I open the fridge and see some chicken that I roasted a couple of days ago and some courgettes/mushrooms that were left over from the night before's meal.
Sometimes, I use them as they are.
Sometimes, I'll mix in some tinned tomatoes.
Sometimes, I'll make a pesto, which makes it green and unctuous.
Sometimes, I'll fry some onions and mix the chicken and leftovers in at the last minute.
Make it work for you. Whatever you have in the fridge, whatever you feel like creating.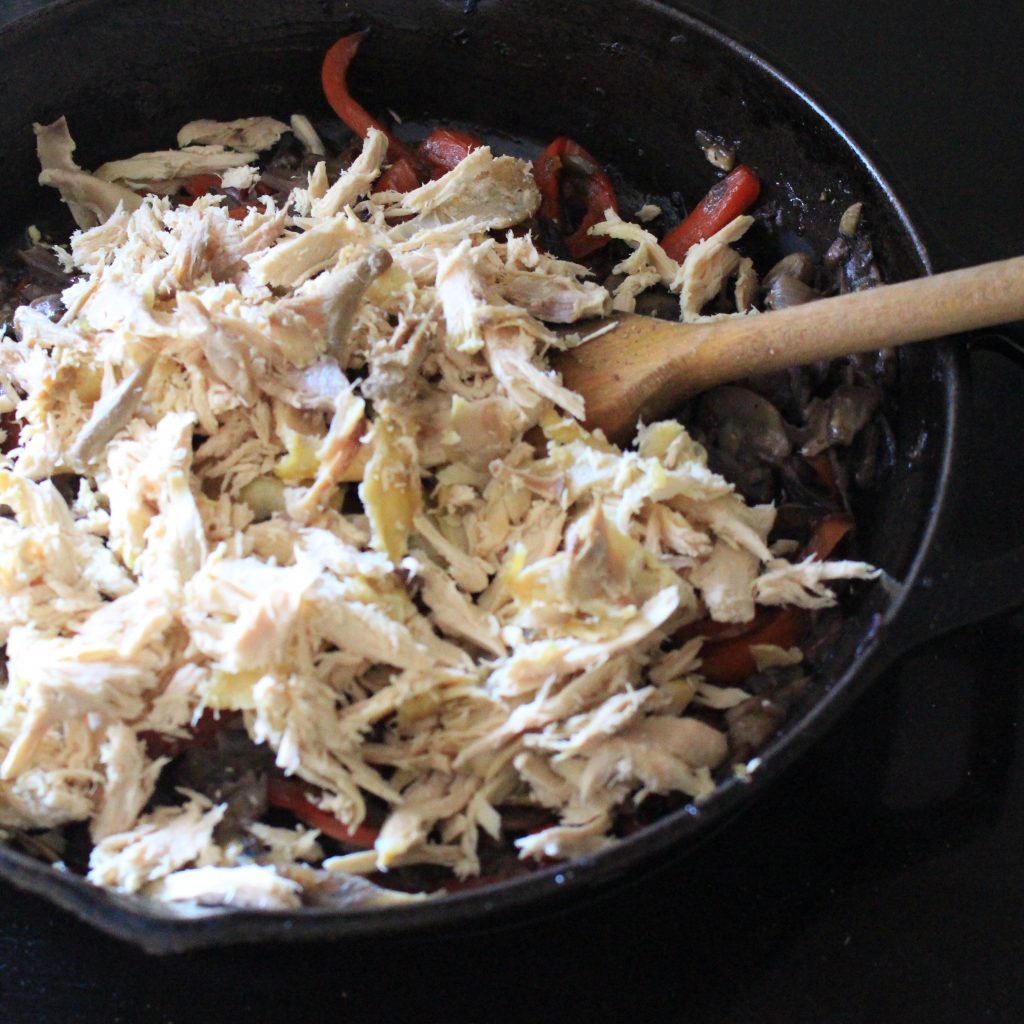 Liquid
I love to add nutrient-dense chicken or beef stock to the lasagna. It brings so much hearty flavour to the bread, racks up the nutrients and tips the dish into the realms of heavenly.
But, as with all the cook up recipes, it is not essential. You could use homemade vegetable stock, shop-bought fresh stock or, even stock cubes.
The process:
Prepare your filling:
If you are making a new filling from scratch, prepare it and let it cool slightly.
If you are using all leftovers, mix them together and season.
If you are augmenting your leftovers with fresh bits, cook them up and let them cool a little before mixing in your pre-cooked goodies.
If you wish to layer your filling with cheese, cheese sauce or pesto, get that ready too.
Preheat your oven to 180C/350F
Slice your bread – try to do it thinly, that way you'll have the possibility of doing a good number of layers.
Assemble the dish in the traditional lasagna style – filling, sauce (if using), bread, repeat.
Pour on the stock gradually, trying to soak as much of the bread as you can. I use a clear dish and find it works best when the stock comes two thirds to three quarters of the way up the side.
Cover the dish. Using an aluminium foil tent would work.
If you can, let the dish sit for 15 mins before putting in the oven to allow the bread to soak up the liquid.
Cook at 180C/350F for c40 minutes, removing the cover half way through.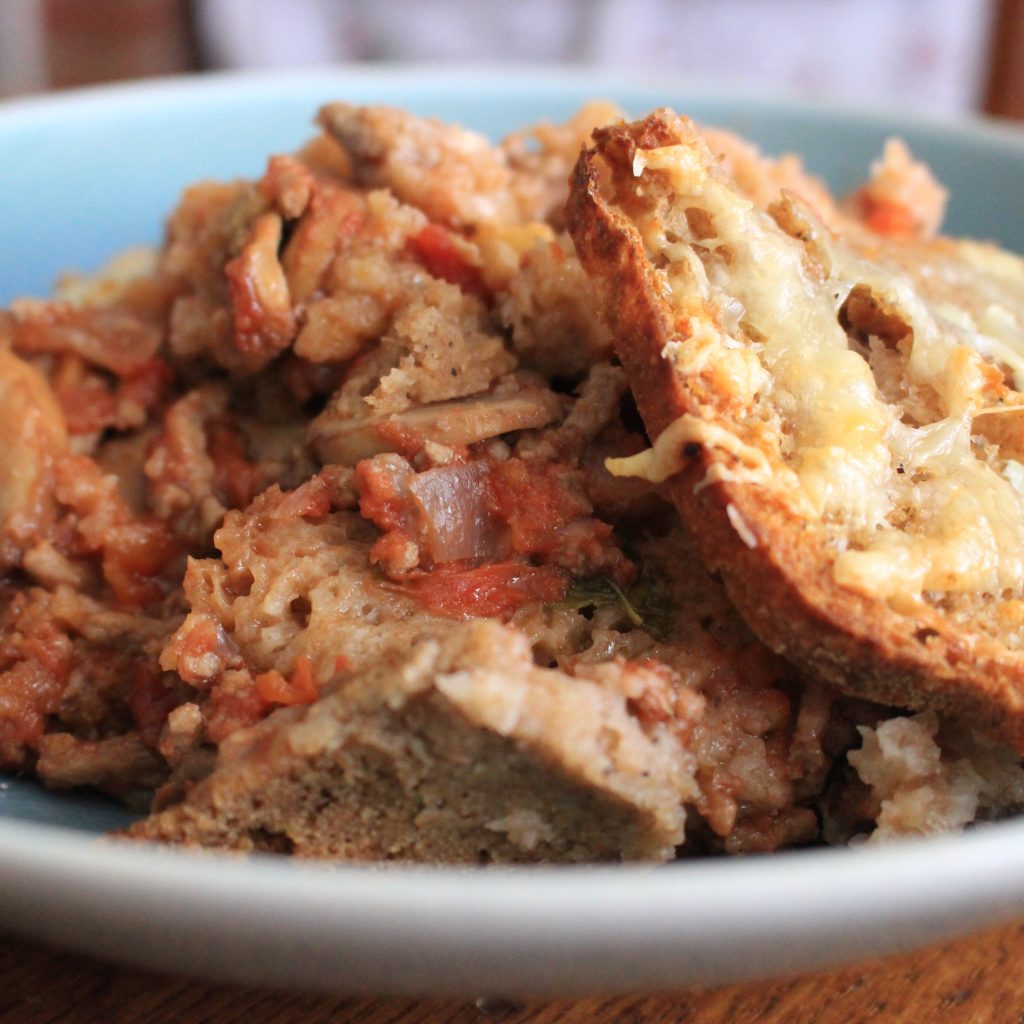 Sharing it:
I want to see and hear about your process: your ingredients and why you chose them, how you're cooking them, the finished bread, how you eat it and who you share it with. I'll be posting pictures on Instagram @ancestral_kitchen and on my blog. If you're on instagram, post using the hashtag #ancestralcookup and tag me (@ancestral_kitchen). If you don't have instagram, please do comment at the bottom of my blog post – you can upload your pictures there too.
If you want to give it a go, I thank you. I've been looking for a community of cooks for a while. At the moment that seems harder than normal. If you can help make it more than just me in my kitchen, you get a big heap of my gratitude.