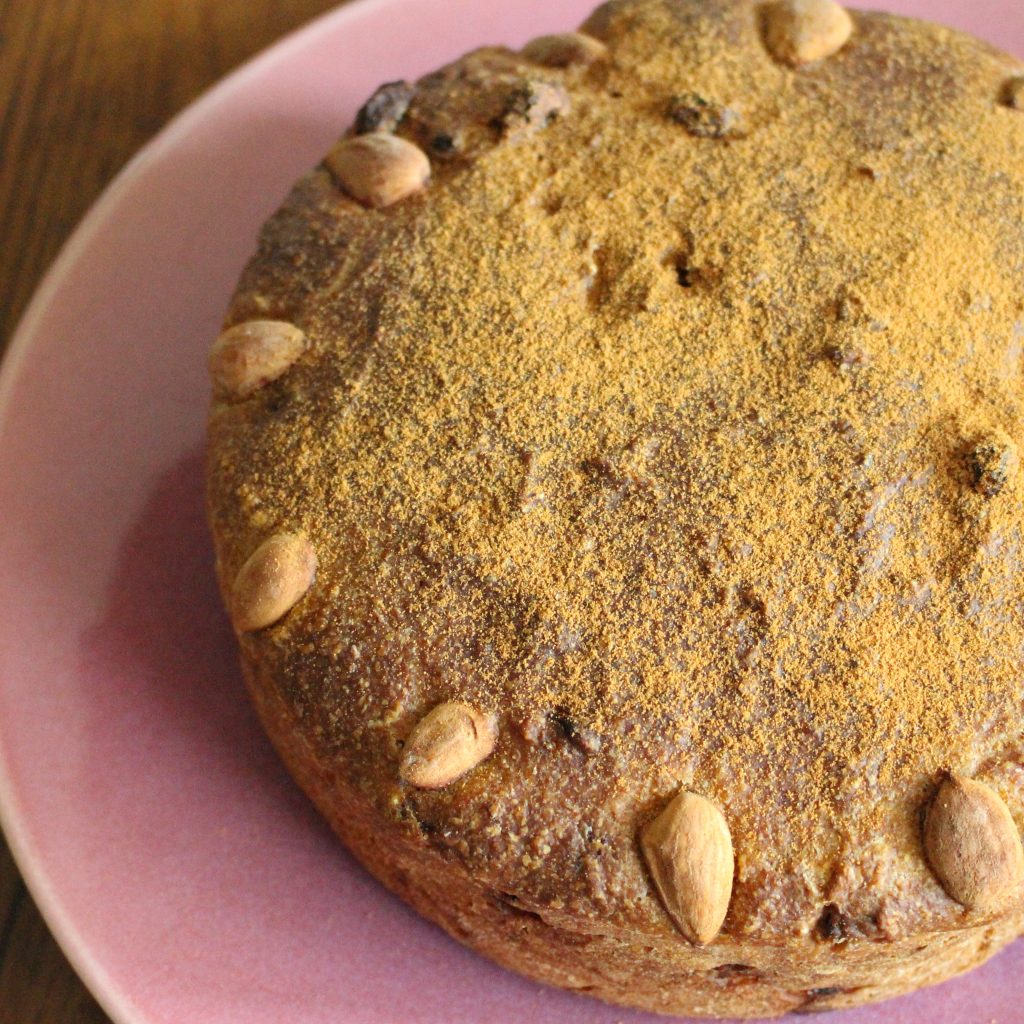 Making a cake should be easy. But what if you can't eat eggs, you don't use refined sugar and you want it to be sourdough? That's where this recipe came from and if you want to have a go, you'll find, without eggs or sugar and just with sourdough, it's still easy to make a soft, tender crumb and a sweet, tangy flavour that would grace any celebration or simple afternoon tea.
This delicious sourdough spelt and carrot cake is risen solely with the power of a sourdough starter! Because it does not contain eggs or dairy, it is perfect for someone who has intolerances, and because it does not contained any refined sugar – being sweetened only by honey and carrots – you can feel wholesome whilst tucking in!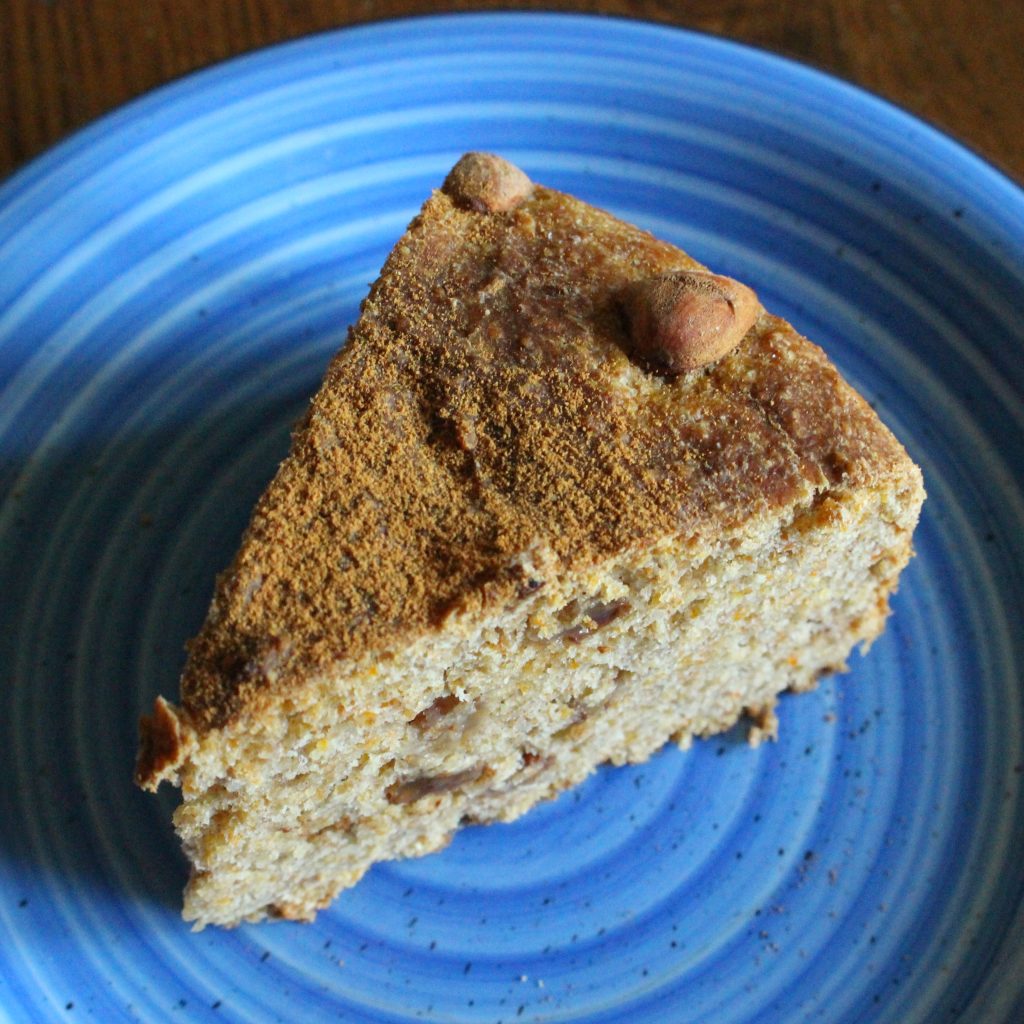 Sourdough Spelt & Carrot Cake
Makes a cake to fill an 8inch/22cm sandwich tin
Ingredients:
295g spelt flour (I used 50% wholegrain 50% white)
90g mashed, previously-boiled carrot, cool
45g lard (see * note below if you don't want to use lard)
1/2 tsp salt
70g raisins
90g ripe sourdough starter
c.75g runny honey (use more or less, depending on your taste)
Spices of your choice: I used 1tbsp cinammon, 1/2 tbsp ginger and 1/2 tbsp nutmeg
1 tbsp grated orange zest
c.133g water (this amount suits my spelt flour, yours might be different)
c. 12 almonds and 1/2 tsp cinnamon to decorate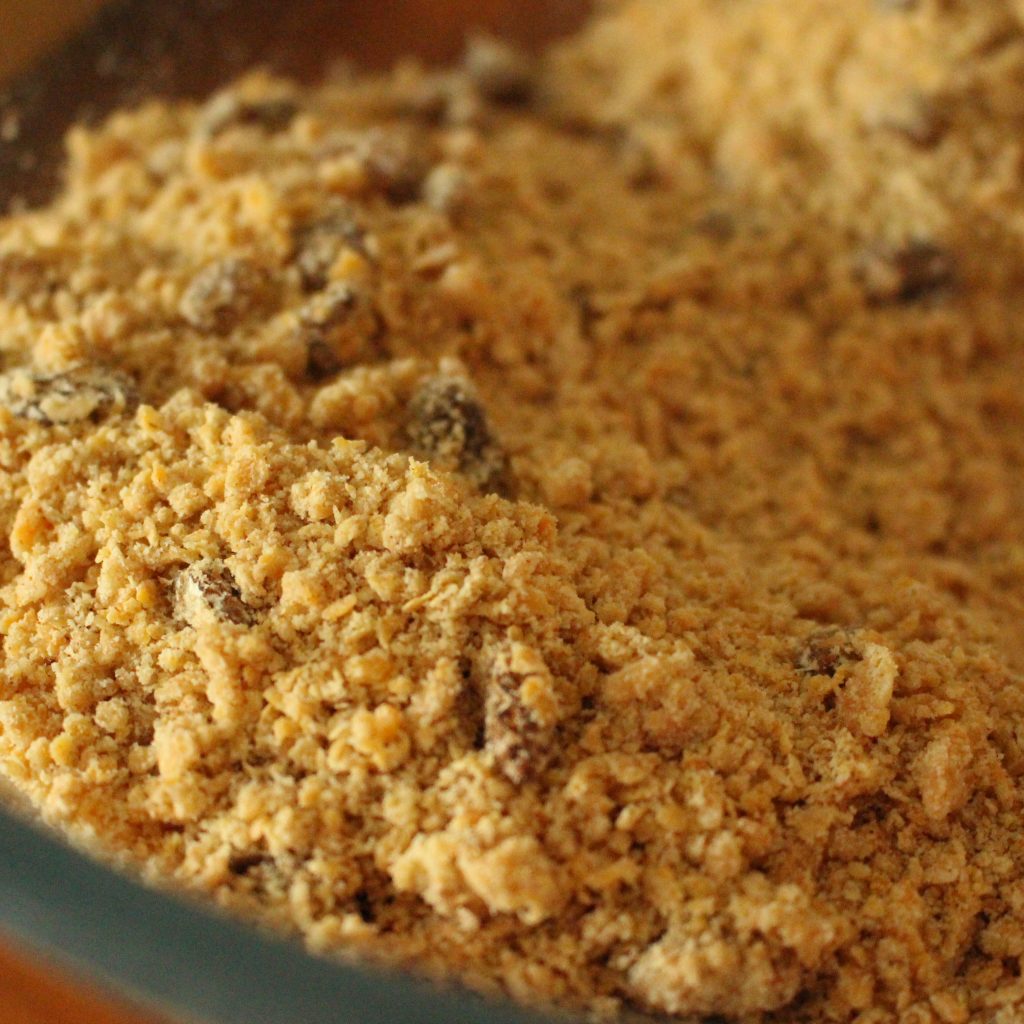 Method:
Mix the flour, salt and spices together.
Add the mashed carrot and rub into the dry mixture with your fingertips until it is well-distributed.
Add the lard and rub into the dry mixture with your fingertips until it is well-distributed.
Add the raisins to the mix and stir well.
Mix together the starter, honey, orange zest and water (feel free to reserve a little of the water back at this stage to ensure that you don't make the batter too liquidy).
Pour the wet mixture into the dry mixture and stir well. You should have a thick batter with a cake-like consistency.
Pour the mix into a lined and greased (if needed) cake tin.
To proof, the mixture needs to be warm, protected from flies/dust and kept damp (or the top will dry out). To achieve this I put it in a warm place, place a fly cover over it and then cover that fly cover with two very damp tea towels. You could also proof in a plastic box.
Leave to proof until almost doubled in height. For me, at 22C/72F this takes between seven and nine hours.
Preheat your oven to 180C/350F.
Decorate the top of the cake with the optional almonds.
Cook the cake for 40-45 minutes, watching at the end of the baking time to ensure it doesn't burn. It will be ready when a skewer comes out of it reasonably clean.
Leave to cool on a rack before cutting.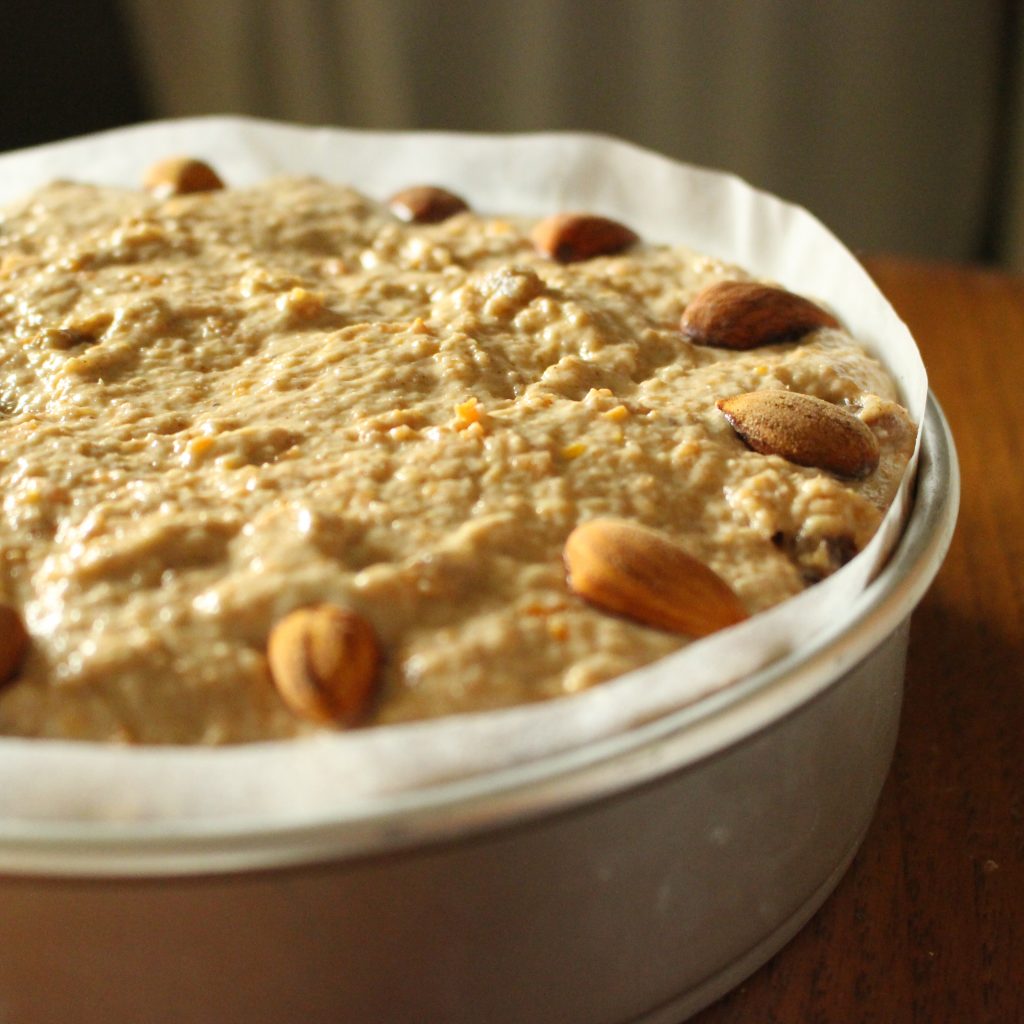 *This cake works well with olive oil instead of lard, if you prefer that. The crumb won't be quite as soft and the honey will have more of a sweetening impact than it does when paired with lard.