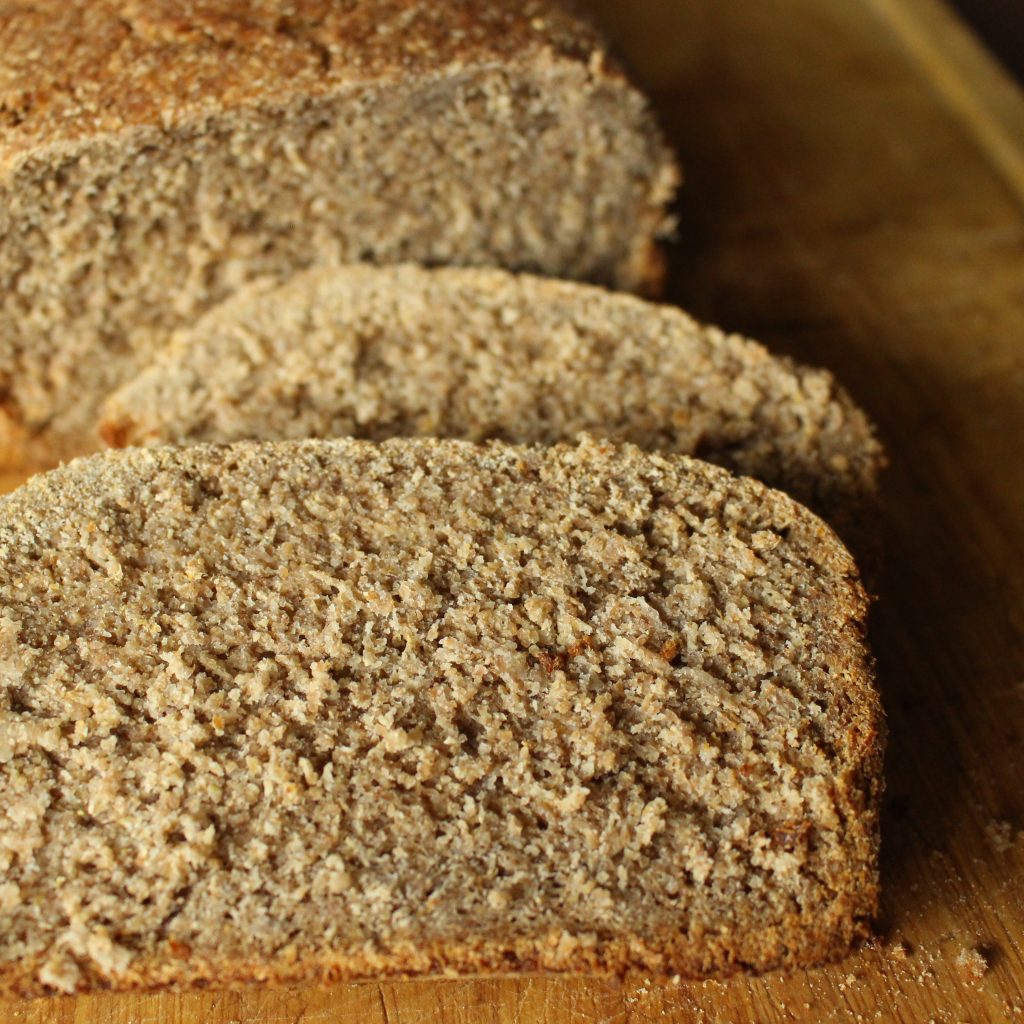 *An updated, lighter version of this bread is part of my comprehensive course, Wholegrain Rye Sourdough Bread: Mastering The Basics. *
Rye has been used to make bread for thousands of years. It's not only super tasty, it's also lower in gluten and requires less attention than its much more popular cousin, wheat. For the one who is eating, that often means easier digestion and for the one who is baking that means no time kneading or learning specialist dough-shaping skills. Why are we not baking with rye more often?!
There are a lot of multi-stage sourdough rye recipes out there (the Borodinsky Sourdough I've previously shared is one). Whilst I love making these when I have plenty of time, or for special treats, I also want a rye sourdough that's easy. This is where my everyday loaf comes in. It's a no-fuss recipe which you can mix early morning then forget about until lunch.
The resulting wholegrain loaf is rustic, dense and satisfying and comes and packed with energy and nutrition. It slices well, lasts easily for a week and can also be frozen.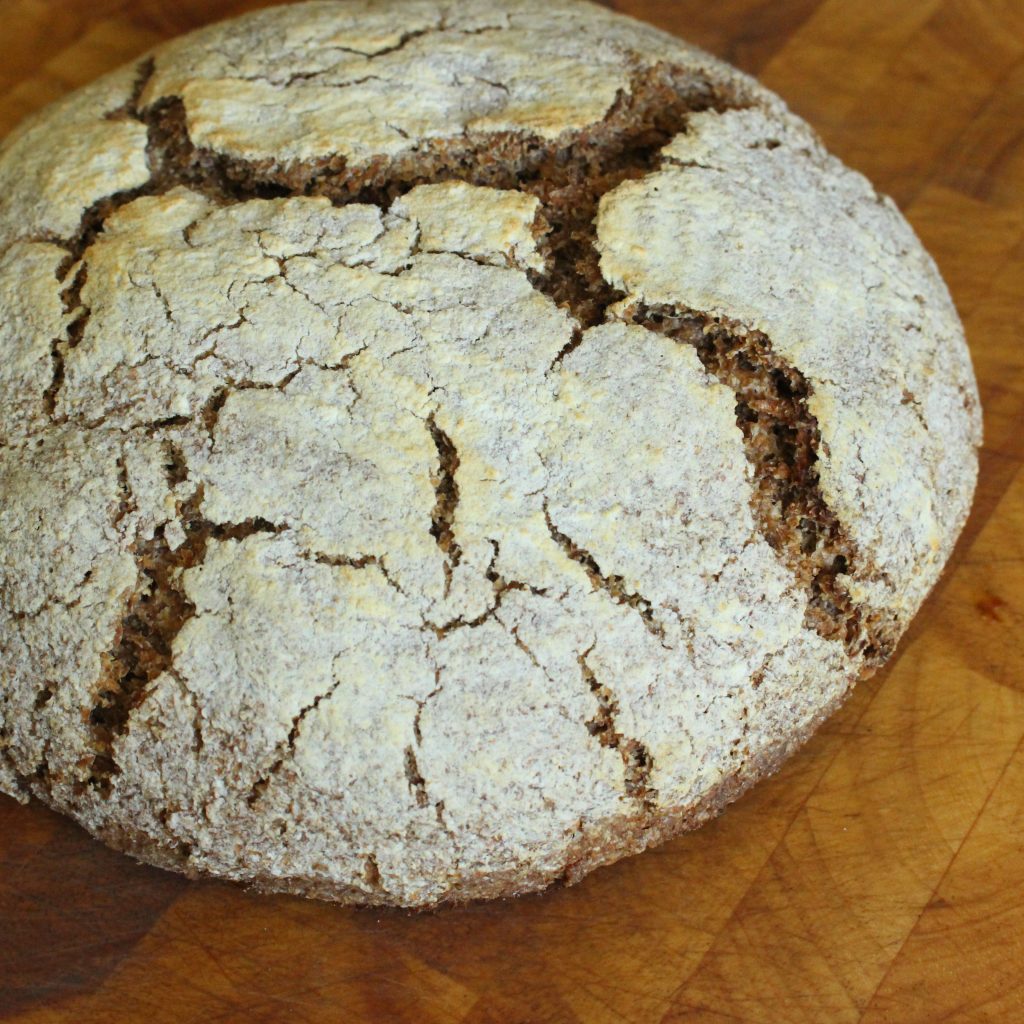 The basics
You need 140g active rye sourdough starter for this recipe. Prepare this the night before you want to bake the loaf, mix the dough in the morning, and then you'll have a loaf ready to bake by the afternoon.
Although you can bake this loaf as a boule, it's easier with a loaf tin, which should have a capacity of 1kg. I most often cook this loaf in an Emile Henry ceramic loaf pan with a lid but you can also use a metal loaf tin.
A probe or laser thermometer is very useful to help you know when the loaf is fully baked.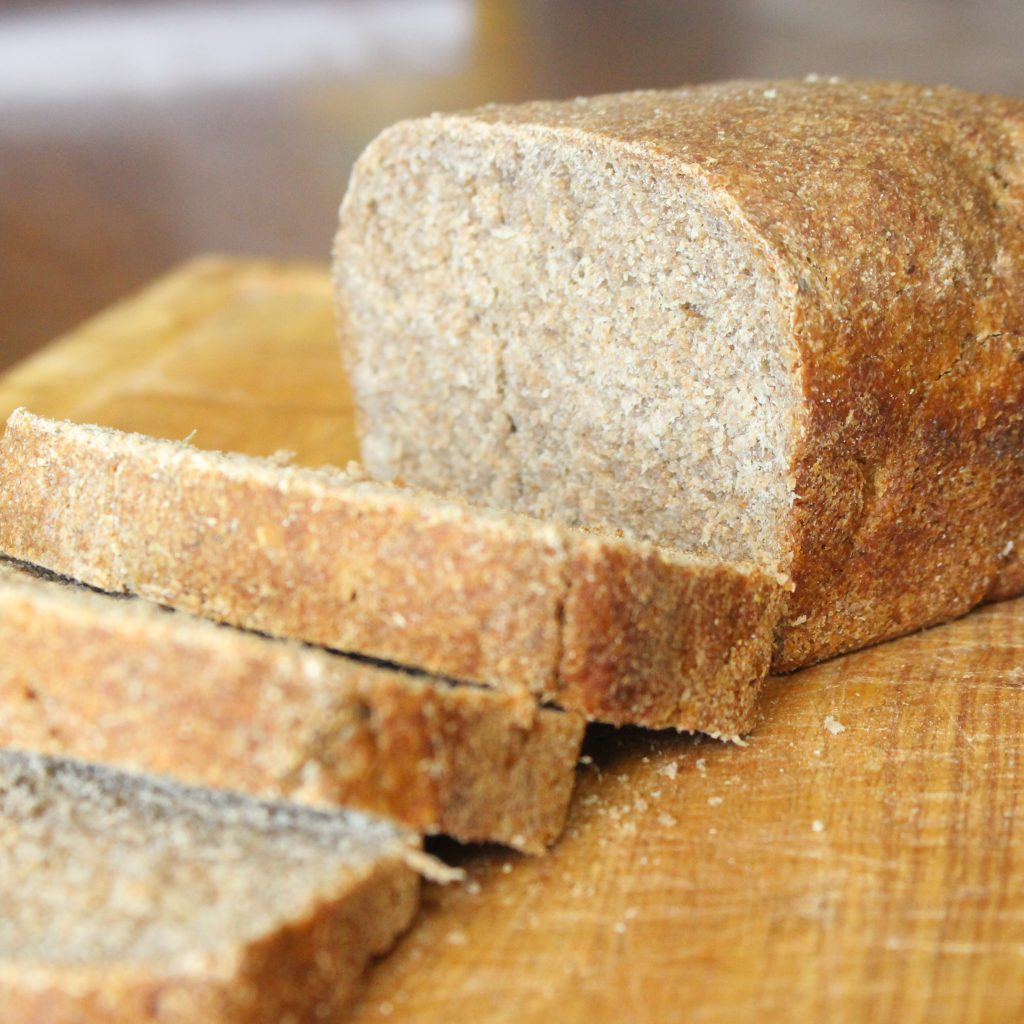 Ingredients
700g wholegrain rye flour
14g salt
425-475ml water
140g of active rye sourdough starter
Optional: ground or whole spices such as coriander and caraway.
The night before:
Prepare your rye starter. To do this, I mix 62g wholegrain rye flour, 62g water and 18g starter in a glass jar and then leave in a warm place overnight. You may need to adjust my measurements to suit your own starter and environment.
The day of the bread:
Mixing and bulk fermenting
Early in the morning, mix the flour, salt and optional spices together in a large bowl. Add the peaking or just-peaked rye sourdough starter and the water – start with 425ml and gauge the consistency of the dough before adding more if needed, up to around 475ml.
Mix the dough really well until you can't see any more flour. This will take some time and be sticky! Be patient; it will come together. Once you've finished scrape the remaining dough off your hands using a spatula.
Cover the dough and leave it to ferment in a warm place.
How long to bulk ferment?
This bulk fermentation will take anywhere from 4 to 6 hours depending on the temperature of your house. With a temperature of 26C/80F I usually leave my dough for about 5 hours. This is, however, a forgiving bread and you can leave it more or less time without causing problems.
It is really difficult to tell by looking when the dough is 'done'. It will not increase in size visibly like a wheat or spelt loaf would. If you are using a glass bowl you may be able to see visible signs of fermentation through the sides but coming to know this loaf is a matter of of playing with your ambient temperature/fermentation time until you get taste and consistency that you like.
Once you're ready to move on it's time to shape and pan the loaf.
Shaping, panning and proofing
Prepare your loaf tin, if using, by greasing and flouring.
Fill a bowl with water and prepare your workspace by covering it with a thin layer of this water and then soak your hands.
Remove the dough from the bowl, using a spatula to help and put it on your wetted workspace.
Whilst regularly re-wetting your hands, form the dough (as if it were clay) into a shape suitable for your loaf pan. Remember to make the loaf slightly smaller than your loaf tin to allow it room to rise.
When you have the desired shape lift the loaf and place it gently in your tin. This now needs covering. Beware that the dough will stick to anything it touches, so either cover it with a large pan, or use something like olive oil to lightly grease the top of the dough before covering with cling film. Then return it to your warm place to proof.
If you wish to make a freestanding loaf, shape the loaf to your desired form and place in a proofing bowl, such as a banneton. Cover this and and return the dough to your warm place to proof.
How long to proof?
At a temperature of 26C/80F the proofing time for this loaf is between 1.5 and 2.5 hours. This time you will notice the dough visibly rise. It will not rise as much as a wheat loaf would, but you should see a 15-20% expansion along with a few air bubbles on the surface of the loaf.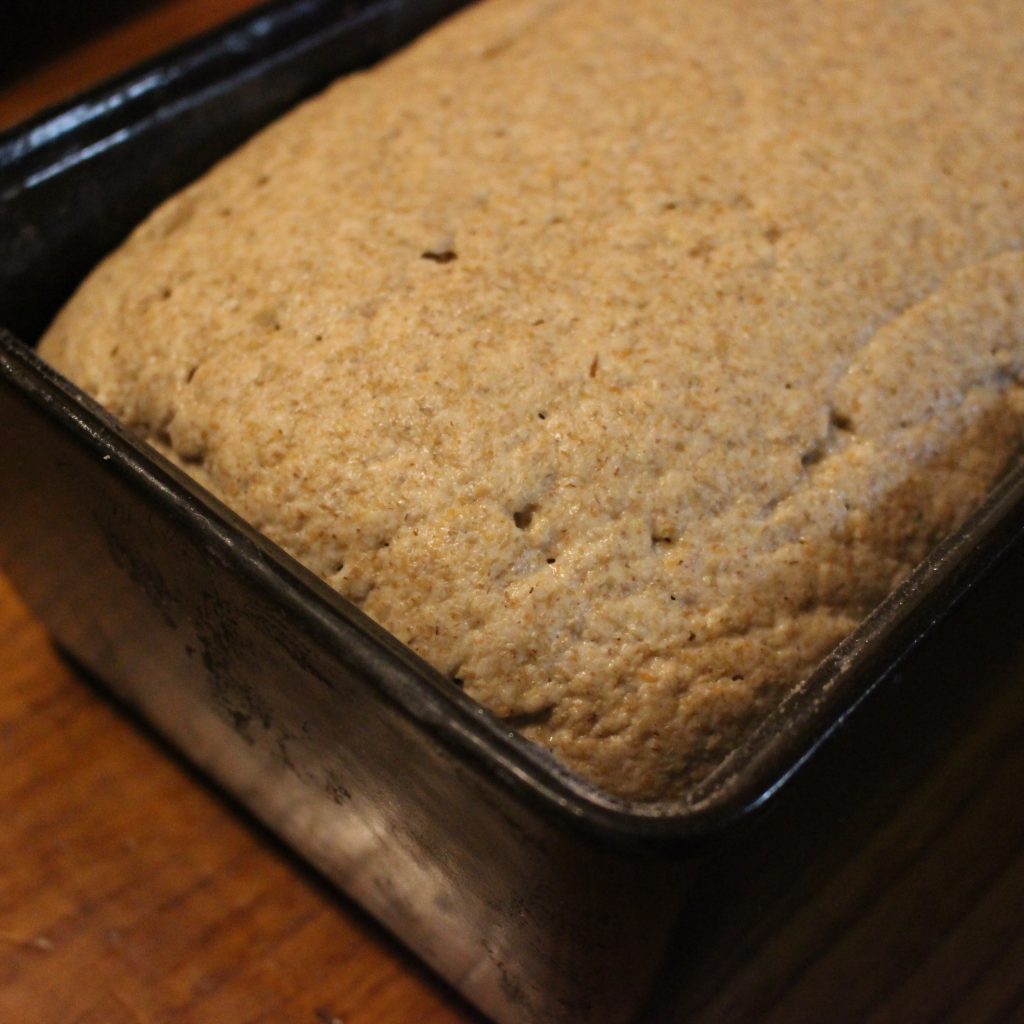 Baking
After proofing, when your loaf has visibly risen, you are ready to bake.
Rye needs longer in the oven than other breads, as it is so dense. It's important to balance this need with not burning the crust – this can be achieved by lowering the temperature.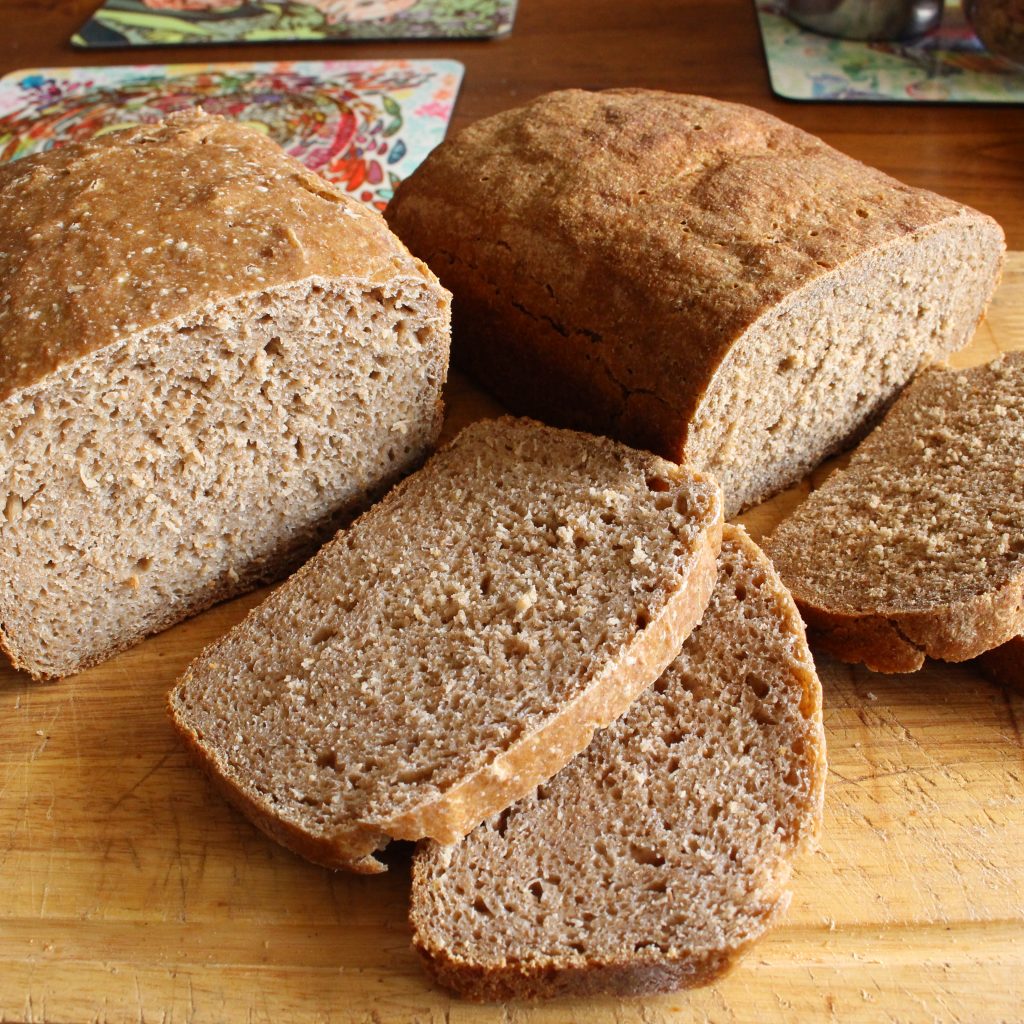 The two most important pointers to understanding whether your loaf is properly baked are:
1 – That it sounds hollow on the bottom when you tap it, and
2 – That the internal temperature is around 98-99C/209F
For my Emile Henry ceramic loaf tin with lid, I cook as follows:
Preheat the oven, on the non-fan setting, to 230C/445F. Brush the top of the loaf with water. Cook for 10-minutes at 230C/445F, then reduce oven temperature to 200C/390F and cook for a further 35 minutes. After this, reduce the temperature again to 190C/375F and cook for a further 45 minutes.
For cooking in a standard loaf tin, I suggest the following:
Preheat the oven to 190C/375F. Brush the top of the loaf with water. Cook for 60-70 minutes.
In order to reduce to risk of a sticky middle, let the loaf cool thoroughly before slicing. In fact, the loaf will improve in flavour over the coming days, so not cutting in for a day or two has more benefits! It will last well for a week, but you can also freeze it with good results.